Cooking fish with tea and herbs is great especially if you like to experiment with new flavors. Why? Because, on the one hand, we give traditional dishes a different flavor and, on the other hand, we love the flavor of these products, even if it is in a subtle way.
If you also like it or, simply, you feel like varying a little your daily dishes, we are sure that you will be as enthusiastic as we are when we publish this type of article, specially designed for you.
But also for those people who, without having to be recipes made with infusions and spices, want to try new flavors in their kitchen. Flavors that are also healthy, what more could you ask for?
Now you know: prepare yourself an infusion, sit down quietly with pen and paper or pencil by your side, and begin to savor, albeit virtually, all the recipes that we have prepared for you today.
The Best Teas for Cooking Fish
Fish and seafood with a strong flavor: such as, for example, blue fish or clams, among other products. In these cases, both black tea and oolong tea marry perfectly. But other combinations could also be made in certain cases.
White fish: the softest, with the softest infusions, as is the case of white and green teas, except matcha tea which has more flavor, although you can also make a tasty sauce with this variety of tea.
Beyond the classics, we like to add:
Fennel: which is perfect for grilled fish and they are not too dry, in addition to giving it that aniseed touch that is sublime.
Dill: This is also great for fish with a stronger flavor, such as salmon.
Thyme: for white fish, baked in the oven, without further embellishments. This way you make a healthier and tastier dish.
How to Cook Them?
The most advisable is to do it by first preparing the infusion and, then, working with that infusion the product. That is to say, this infusion replaces the water, milk, or other liquids used to prepare the fish.
However, there are also people who prefer to work directly with the plant and, in fact, there are herbs that do allow you to work with them in this way, for example, bay leaves.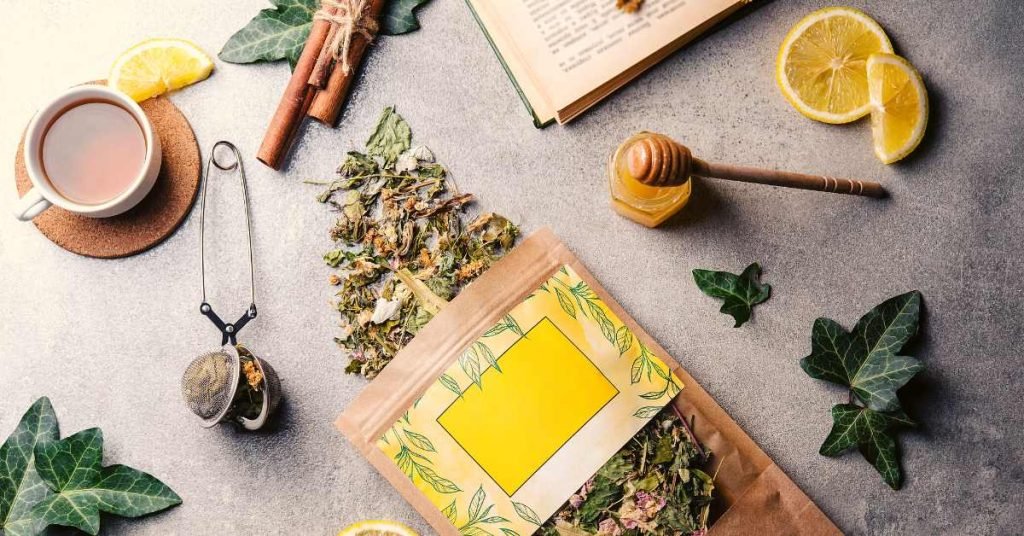 In the case of tea, it is preferable to do it in the way we have mentioned in the first place.
However, there is one exception: matcha tea can be cooked directly with fish. It is even widely used in sushi preparations, where rice and fish or seafood are combined in a raw form. But it is also used in hot dishes, especially to make sauces.
Salmon In Black Tea Sauce
For its preparation, you will need the following ingredients (counting as it is for 4 people): 4 salmon fillets, half an onion, 200 ml of black tea, 200 ml of cooking cream, oil, salt, and pepper, to taste.
Once you have all the ingredients, the process is very simple. To begin, prepare the infusion and let it steep for 6 minutes.
During that time, chop the onion and put it poach in oil that we will have heated over medium-low heat.
After the infusion time, add the black tea, mix, and, little by little, add the cream and salt to taste. Next, in a separate frying pan, add oil, heat, and sear the salmon and season with salt and pepper (do not add too much salt; just enough to compensate for the salt in the sauce).
When it is ready, we pass it to the pan where the sauce is with the rest of the ingredients and let it cook over medium heat for 5 minutes on each side.
TIP: if you want to make a more complete dish, you can serve it with some whole wheat pasta, such as rice or noodles, even zucchini noodles, which are very tasty and you only have to pass them for a moment in the frying pan to cook them (a frying pan without sauce; only with oil and a little salt).
Cod with Matcha Tea and Chocolate Sauce
What do you need? 6 small or medium-sized cod fillets; 10 grams of matcha tea; 120 grams of white chocolate and 100 grams of milk chocolate; 300 grams of fish stock; 1 shallot; 1 clove of garlic; oil and salt to taste.
Once you have all the ingredients, what you do have to have is foresight, because although it is a simple recipe, the truth is that you need to start preparing it the day before.
The first step is to make the sauces. To do this, take the white chocolate, melt it in a bain-marie, and add the matcha tea and 8 tablespoons of olive oil. Mix well and set aside.
With dark chocolate, the process is similar, but instead of mixing it with oil, we mix it with 200 ml of fish stock. Mix and set aside. In both cases, you have to leave it overnight.
The next day, start by cutting the shallot into tiny pieces, frying it until brown, and adding the garlic and the white wine. Let the alcohol reduce and strain.
It is in this liquid that we will cook the cod. When it is ready, serve it with a little matcha tea sauce and another one of dark chocolate, a real explosion of flavors in the mouth! Try it and let us know.
And you, do you have other recipes you want to share with us? We are waiting for your comments!
MEDICAL DISCLAIMER
Itsnevernotteatime.com cannot and does not contain medical/health advice. The medical/health information is provided for general and educational purposes only and is not a substitute for professional advice.
Click Here For More Info