It is proven that eating a vegan diet is much more beneficial than eating other types of diets containing animal foods.
One of the latest studies, conducted by the University of Oxford has compared the health of vegans with that of people who ate animal products and concludes that eating plant-based food protects them significantly when it comes to heart disease and cancer.
In the case of cancer, British analysts have found that this disease is reduced by 15% compared to people who eat animal protein.
But we are not here to talk about the vegan diet itself but to give you some recipes with teas that, we are sure, you will love if you also follow this vegan diet. While it is true that these recipes are for everyone.
But first, let me give you a brief overview of the main benefits of Matcha tea.
This way, if you do not know it, you have complete information about the product, as well as the use that can be given. And I can already tell you that it is very, very easy to use in the kitchen.
Matcha Tea Reduces Stress
When you buy matcha tea, you will discover a variety that has been used for hundreds of years in Japan and that is becoming very popular in our Western culture.
This type of tea helps to reduce stress, helps to increase defenses, reduce cholesterol, and help fight cancer.
Thus, if we combine this infusion with a vegan diet, we will increase our chances of enjoying good health.
Matcha vs. Green Tea Leaf
Matcha tea is the whole green tea leaf subjected to a special drying treatment after which the leaf is ground into a tea powder. This concentrated format multiplies the benefits of the tea.
The antioxidant and nutritional properties (vitamins, minerals, amino acids) of one cup of matcha tea are equivalent to ten cups of green tea!
Benefits and Properties of Matcha Tea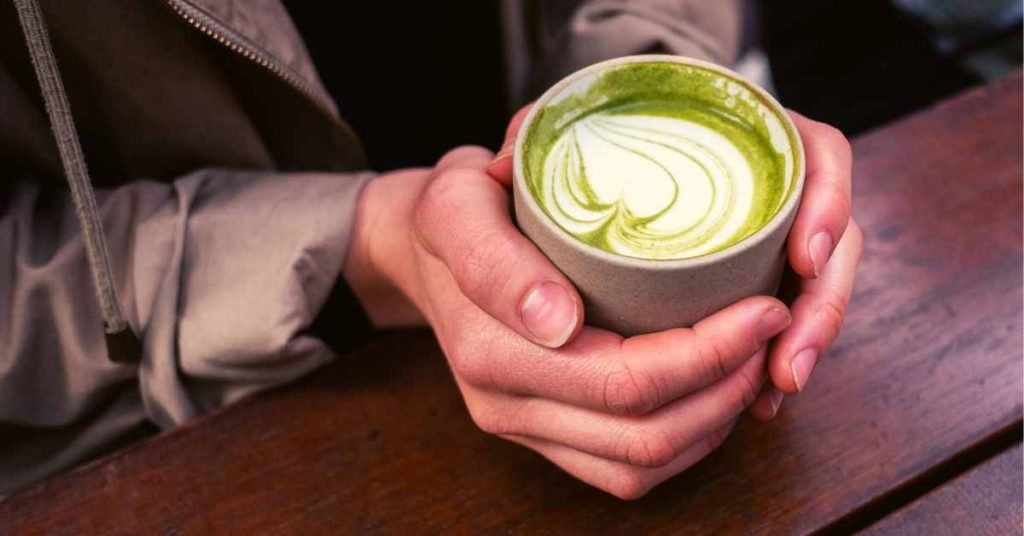 We have already discussed some of the main benefits of matcha tea, but it has many more properties:
Help burn fat due to its great metabolic capacity, so it is often used in slimming diets.
Helps reduce cholesterol.
Helps to reduce blood sugar levels.
It has relaxing and calming properties, thanks to its concentration in L-theanine, the amino acid that is attributed to the feeling of well-being.
It provides energy (because, although it relaxes, it does not make you feel sleepy).
Contributes to improving mood.
It activates the memory.
It is a natural antioxidant, that is, it has natural compounds that delay aging and chronic diseases.
Helps prevent arthritis.
It can contribute to reducing cancer diseases.
Improves physical endurance so it is ideal for people who do any kind of sport.
It is rich in fiber, vitamin C, and minerals such as selenium, chromium, zinc, and magnesium.
It has a lot of fiber.
Its intense green color is due to a large amount of chlorophyll it has.
With all these healthful properties, what are you waiting for to introduce this potent ingredient into your cooking?
Easy Vegan Recipes With Matcha
Here are some quick and easy vegan recipes for you to enjoy all its flavor.
Vegan Matcha Tea Cake
To sweeten your life without taking a lot of calories here is a delicious dessert. The ingredients you will need are:
10 grams of matcha tea powder
150 grams of ground almond powder
400 ml of milk or coconut milk
70 grams of sugar
4 grams of agar-agar (or gelatin)
20 ml of orange blossom water (optional)
Aniseed in grain
To make the base: 1 liter of hot water, 50 grams of walnuts or almonds, and 10 dates.
To make the base, first, you have to soak the dates in the hot water for half an hour, then remove the pits and set aside.
Grind the almonds or walnuts (make the choice to your taste) and add the dates, continue grinding until you obtain a dough with which you will cover a cake mold. The thickness is usually about 1 centimeter.
Continue mixing the 150 grams of almond powder, coconut milk, orange blossom water, matcha tea and sugar.
Mix until a homogeneous mass is left and bring to a boil to add the agar agar, and continue boiling for 2 more minutes.
Then pour into the mold and let it cool in the refrigerator for 3 hours to make the mixture solid. Once this time has elapsed, remove from the refrigerator and decorate with the star anise.
Matcha Cookies
For delicious healthy snacks or breakfasts you can make your own blackberry-flavored cookies! For this original recipe we propose you will need:
140 grams of flour
2 tablespoons of matcha tea
100 ml olive oil
2 tablespoons of yeast
½ cup sugar
5 chopped walnuts
1 teaspoon baking powder
¼ cup virgin olive oil
½ tablespoon salt
½ cup soy milk
To start with the preparation of these delicious cookies, mix the flour with the matcha tea in a bowl, add the sugar, baking powder, salt and chopped walnuts. Add a splash of soy milk and stir.
Keep adding the rest of the milk until you have a soft dough. Put a piece of parchment paper on the baking tray and take pieces of dough to make the cookies.
You can try to make them in various shapes and sizes by flattening the dough between your hands. Place the cookie dough on the parchment paper and bake for 15 minutes.
Afterwards, let them cool and you will only have to enjoy these original and, above all, healthy cookies.
Kiwi Sponge Cake with Matcha Tea
During the cold weather of colds and flu, there is nothing better than preventing them with a good dose of vitamin C in the form of kiwi and matcha tea. The ingredients for this vegan cake are:
1 and a half cups of vegetable milk
1 cup and a half of flour
1 sachet of yeast
Half cup sunflower oil
1 tablespoon olive oil
3 tablespoons matcha tea, kiwi and cherry flavor
3 kiwis
1 soy yogurt
Half a cup of sugar or sweetener
To begin, pour the soy yogurt into a bowl. On the other hand, peel the kiwis and crush them to mix them with the yogurt. Add the vegetable milk, the sugar or sweetener and the half cup of sunflower oil.
Continue mixing until a homogeneous mass is obtained. Add the flour little by little and continue stirring. Have a little patience and stir for a while so that there are no lumps.
Then, grease with oil the mold in which we are going to make the cake and pour the dough over it. We introduce it in the oven at 180 degrees for approximately 40 minutes. Let it cool and, if you want, decorate it with some kiwi slices.
Can you tell us about your vegan matcha tea recipe?
You can see that matcha tea has many uses and can be used in countless recipes and is suitable for both vegans and vegetarians.
MEDICAL DISCLAIMER
Itsnevernotteatime.com cannot and does not contain medical/health advice. The medical/health information is provided for general and educational purposes only and is not a substitute for professional advice.
Click Here For More Info