Is turmeric slimming? That is the question you ask us many times when you ask for infusions or products that can be taken in infusion because your desire is to lose weight. Doing physical exercise will help you lose weight in an effective and healthy way.
The answer is ambiguous: in reality, turmeric, as such, does not lose weight, but it is true that it helps to activate the metabolism, that food is better digested, reduces body fat, and helps burn bad fat in the body.
All these factors make that, taken continuously and accompanied by a healthy diet, proper hydration, sufficient rest, and moderate sport, at least 2 or 3 days a week, it becomes the perfect complement to lose those extra kilos.
In addition, turmeric gives you vitamins and minerals to feel better, have more defenses, and give you energy in a natural way, so you can take it without problems on an empty stomach and acquire part of the energy you need for your day-to-day.
Therefore, no, turmeric alone does not make you lose weight, but it does help you to achieve it if you do it following the guidelines that we have told you.
Today we tell you how much turmeric to take a day and how to do it so you can incorporate it into your daily life, without problems. Let's start!
Turmeric Slimming Benefits
Numerous studies demonstrate, scientifically, that turmeric has the following properties:
Anti-inflammatory
Antioxidant
Antidiabetic
Improves the immune system
In addition, it has also been shown that it helps to burn and digest fats better, so from this result it can be deduced that turmeric infusion is effective for weight loss, although with certain "buts".
Specifically, it is known that turmeric has the following benefits associated with weight loss in a natural way:
Helps prevent metabolic syndrome: the same is directly associated with a person accumulating fat more easily, due to a change in their metabolism.
To reduce it, it is recommended to take turmeric daily and moderately, in order to reduce triglycerides and bad cholesterol in the blood.
Helps detoxification and cleansing of the liver: so it is also easier to maintain our ideal weight.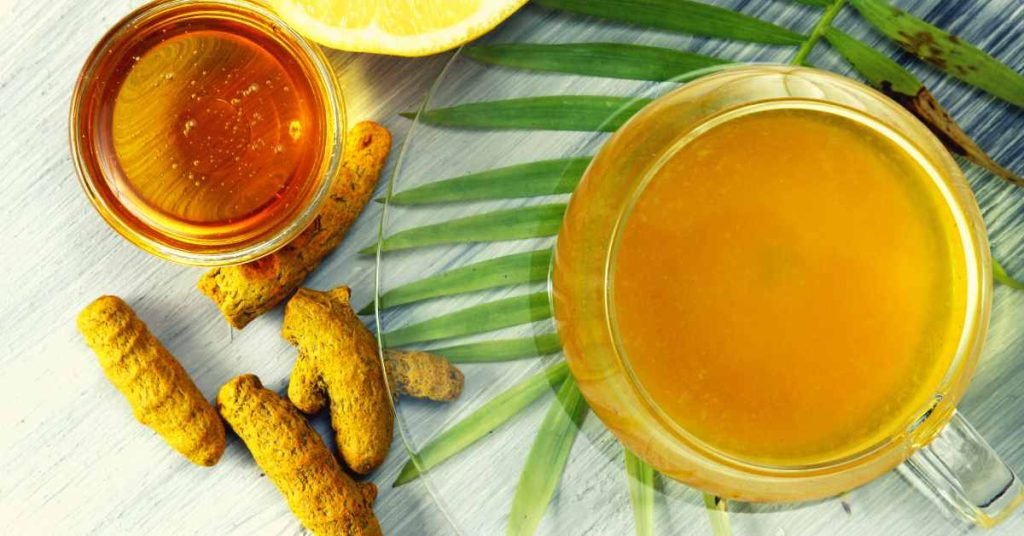 Accelerates metabolism: like ginger, this is due to its thermogenic effect on the body of the person who consumes it regularly. Thus, it is perfect for increasing thermogenesis to accelerate metabolism.
On the other hand, it is also proven that taking turmeric, along with other ingredients such as ginger, black pepper, or some fatty liquids such as coconut oil, olive oil, or almond milk, among other products, helps to burn fat in a natural way.
Turmeric and Black Pepper
There are different ways to use this combination to help you lose weight, thanks to its fat-burning effect.
On the one hand, there are capsules that have this combination and you only have to take them with a large glass of water. On the other hand, you can add a pinch of freshly ground black pepper yourself.
However, there is a pleasant way that we recommend you, which is to do it in infusion and on an empty stomach, because it is a way to activate the metabolism as soon as you wake up, in addition to giving you energy.
Depending on how much or how you like the taste of turmeric and how much you tolerate the spiciness of black pepper, the amount of both will be more or less.
In any case, the basics are usually one teaspoon of turmeric and half a teaspoon of ground black pepper.
If you find it more pleasant, you can also make this infusion with some vegetable milk, so that you do not contribute more fat to the drink.
In this sense, we recommend turmeric chai tea, which combines the flavor of black tea, turmeric, and black pepper. We love to drink it in the morning.
If you are more of a green tea person, you will love the variety we have with turmeric and black pepper. Drink it mid-morning or an hour or two after lunch and you'll notice the detox effect it has on your body.
How Is Turmeric Latte Prepared?
As has already happened with other occasions, the turmeric latte is a drink that has become very fashionable and, in this case, we can say that it is good, since it provides numerous properties and is perfect to replace it, for example, for the morning coffee or mid-afternoon, accompanied by a piece of fruit or a handful of nuts.
To prepare the turmeric latte recipe you need a cup of milk (the one you prefer), half a tablespoon of turmeric powder, ¼ teaspoon of cinnamon, and, if you wish, some natural sweetener, such as agave syrup, although we do not use it.
First of all, you have to do is heat the milk and then add the turmeric and cinnamon and whisk well. If you want it to have some foam, use one of those small mixers that are used precisely for that purpose.
MEDICAL DISCLAIMER
Itsnevernotteatime.com cannot and does not contain medical/health advice. The medical/health information is provided for general and educational purposes only and is not a substitute for professional advice.
Click Here For More Info