The Linden tree is native to the Northern Hemisphere, and its flowers are used to prepare tea mostly in Europe.
However, the awe-inspiring sweet and floral flavor of this tea is also widely enjoyed in other parts of the world, including the U.S.
Growing a linden tree in a backyard requires a temperate continental climate and a lot of space.
Linden trees bloom from early June to mid-July, so if you know of one near you, go ahead and pick some fragrant flowers for your tea.
How Do I Add Linden Flowers to My Tea?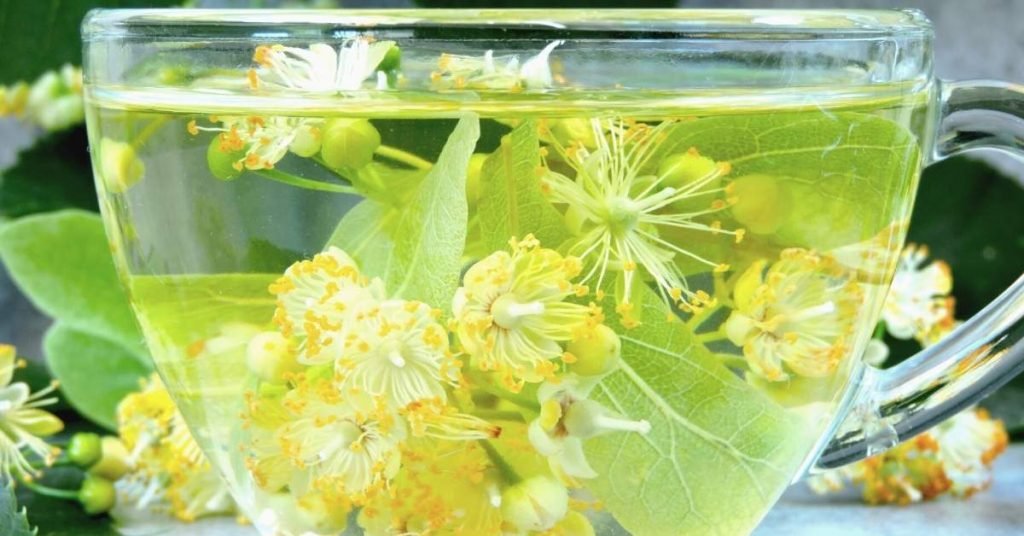 Linden flowers are not necessarily brewed alone. You can add them to your favorite Oolong or Bancha tea, or even mix them in another floral blend.
Some tea enthusiasts even suggest adding linden leaves and linden bark to a tea, however, we are going to stick to adding only flowers to our tea.
After harvesting, linden flowers are previously set on paper towels to dry for a few days to a week and then used to prepare tea.
For a cup of tea, you will need 1/4 cup of dry linden flowers or a tea bag.
Benefits of Linden Tea
This aromatic floral tea boasts multiple health benefits which makes it one of the most required teas among true tea fans.
Although its popularity might not be the same around the world, linden tea is still high on the list of medical floral/herbal teas.
Linden tea has sedative properties. A study shows that a compound of linden tea works the same way as our brain's chemical GABA (gaba-aminobutyric acid) which blocks the excitability of our nervous system.
Powerful antioxidant properties. Linden tea is packed with antioxidants such as tiliroside and kaempferol that destroy free radicals in our body.
Linden tea is a pain killer. The tea's antioxidant quercetin works as a potent agent in reducing pain.
Tea made from the inner bark of the linden tree has diuretic properties.
Linden tea lowers blood pressure. Rutoside and chlorogenic acid in linden flowers help in lowering blood pressure in hypertension patients.
Linden tea promotes sleep. The sedative properties of linden tea promote quality sleep and calm the nervous system in humans.
The information presented on this site is provided for information purposes only. It is not meant to substitute for medical advice or diagnosis provided by your physician or other medical professionals. Do not use this information to diagnose, treat, or cure any illness or health condition. If you have or suspect that you have a medical problem, contact your physician or healthcare provider.
How Much Linden Tea Can You Drink?
Linden tea is a mild floral beverage with multiple health benefits and does not contain caffeine.
If this is your favorite cuppa, then you are allowed to drink up to three cups of linden tea per day, without any side effects, except that you will be extremely relaxed and sleepy.
Linden tea is the best for bedtime consumption, just like chamomile tea.
Does Linden Tea Help Anxiety?
The powerful calming properties of linden tea are not only great for making you sleep, but also promote relaxation of the entire body and soothing the nervous system in humans.
Linden tea is fully recommended for people who suffer from anxiety and want to switch from pharmaceuticals to natural medicine.
Does Linden Tea Interact with Medication?
There is no evidence of linden tea interacting with medication except for maybe diarrhea pills.
As we mentioned earlier, linden tea has diuretic properties, so perhaps it's not the best thing to have linden tea if you have an upset stomach and leaky gut.
How to Make Linden Tea?
The best way to make linden tea is with loose flowers and a couple of leaves. You can use both fresh and dry flowers, having in mind that dried linden flowers have a more intense flavor.
Pour hot water over a handful of linden flowers and let it steep for 15 minutes. The more you leave the flowers in, the stronger your tea will be.
Strain the flowers and the leaves, and serve with honey and lime to your liking.
To my personal taste, linden tea is the best in the world to add honey to.
Final Word
The sensational aroma and flavor of linden tea make this floral delicacy one of the best sedative teas in the world.
Packed with antioxidants and minerals, linden tea tastes even better when mixed with honey.
Harvesting linden flowers and then drying them is best from June to mid-July.
MEDICAL DISCLAIMER
Itsnevernotteatime.com cannot and does not contain medical/health advice. The medical/health information is provided for general and educational purposes only and is not a substitute for professional advice.
Click Here For More Info