Although it may seem a little strange to think of tea as a baking ingredient, you will be able to see that a matcha tea cake is a simple delight to make, which will surprise you with its particular flavor and for being super fluffy.
Matcha is a type of ground green tea, originally from China, highly appreciated in Japanese culture, and also consumed in other Asian countries.
It has a high antioxidant content, to add health to any dessert, and also retains a large amount of chlorophyll that gives it its characteristic deep green color.
Like any other tea, it can be taken in infusions but if you want to try it in another way and learn how to make a matcha tea cake, keep reading this article, in which we detail different ways to make it so you can adapt it to your tastes.
Ingredients:
3 eggs
80 grams of sugar
80 grams of flour
1 natural yogurt (approx. 75 grams)
40 ml. olive oil
2 small spoonfuls of matcha tea (10 grams)
Butter for greasing
Break the three eggs and carefully separate the yolks from the whites, leaving each ingredient in a bowl. Put the egg whites in the refrigerator and set them aside until you are going to use them.
In another bowl, mix the flour with the matcha tea. Sift the mixture so that it aerates and the cake comes out fluffy and set the mixture aside.
Turn on the oven and preheat it to about 350ºF.
Prepare the mold where you will make the cake. You can put non-stick paper on the base and grease the sides with a little butter.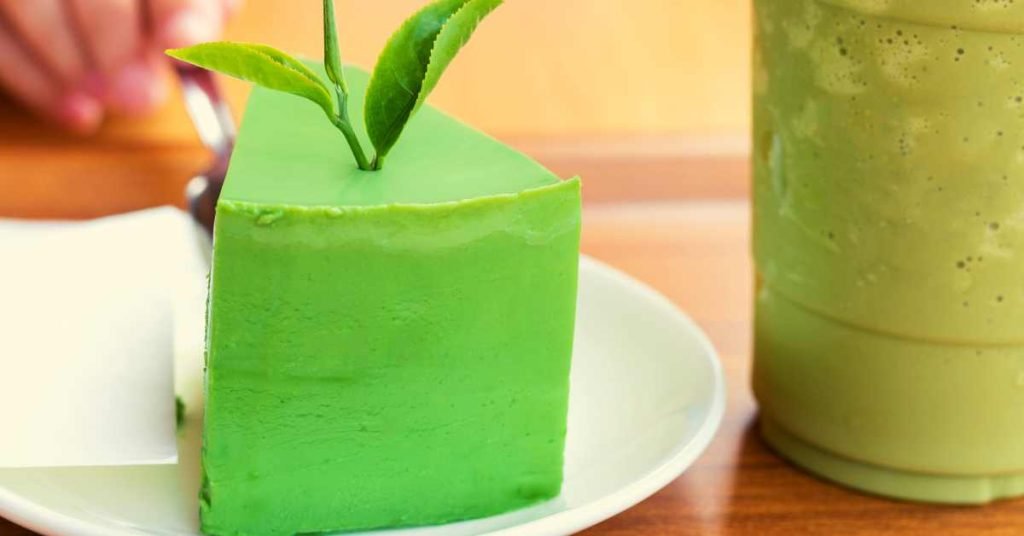 While the oven is heating, start beating the egg yolks while adding half the amount of sugar you have prepared.
Beat well with a fork or whisk and then add the yogurt and oil. Beat again gently.
Now it's time to add the sifted flour to the matcha tea. Do it little by little (not all at once), while mixing it with the whisk and integrating it with the other ingredients until you obtain a consistent dough to make this Japanese green tea cake.
Let the dough rest for a few minutes and, meanwhile, remove the egg whites from the refrigerator to beat them until stiff and make a kind of light meringue. Beat them with a mixer at low to medium speed and, when they begin to take consistency, add the remaining sugar while increasing the mixer speed.
When you have the meringue (it does not have to be perfect), you will have to add it to the batter prepared with eggs, yogurt, flour, and tea. Add it in batches, that is, add a few spoonfuls, stir slowly with enveloping movements and add another portion. Stir slowly with enveloping movements and add another portion until the whipped egg whites are fully integrated into the batter.
Pour the batter into the mold and take it to the oven. The matcha tea cake will be ready in about 30 – 40 minutes.
When baking a cake, some difficulties may arise, so we recommend you also read these articles on What to do when a cake is uncooked and Why it doesn't the cake rise.
After this time, remove the green tea cake from the oven, wait a few minutes for the temperature to drop, and remove it from the mold. Let it finish cooling on a wire rack and then cut the portions you need. Also while it is cooling and before cutting the portions, you can take the opportunity to open it in half and put a filling of your choice.
This spongy cake is ideal as breakfast, accompanied by tea, an infusion, juice, or coffee, but also serves as a small portion of dessert or snack. Delicious!
Now that you know this Japanese green tea sponge cake recipe and if you like the recipes of this country, we encourage you to discover with this other recipe How to make Japanese cheesecake.
How to make a matcha tea sponge cake – Step 11
If you want to read more articles related to How to make a matcha tea cake, we recommend you to visit our Recipes category.
Tips
The recipe we have explained is one of the easiest ways to make any cake because the yogurt cup will serve as a measure for the rest of the main ingredients (flour, sugar, oil).

If you prefer, you can also make the matcha tea cake by replacing the yogurt with milk. In this case, you will have to add about 30ml of milk.
Although it is very easy, if you do not feel like making the meringue, another way to make the cake without this step is to beat the whole egg (yolks and whites) directly. If you want to do it this way, so that it comes out juicy, it is convenient to add to the mixture a few tablespoons of butter (about 60 grams) previously mixed with part of the sugar and work until it acquires an ointment texture.
The taste of matcha tea cake is different from any other, with an herbaceous touch, less sweet than a traditional one but equally delicious. Remember that you can give it any finish you like, for example, sprinkle it with powdered sugar or give it a rich chocolate coating.
If it suits you better, instead of a sponge cake you can also make other pastry presentations with the same recipe, for example, prepare some muffins, by simply changing the molds.
MEDICAL DISCLAIMER
Itsnevernotteatime.com cannot and does not contain medical/health advice. The medical/health information is provided for general and educational purposes only and is not a substitute for professional advice.
Click Here For More Info