Pour this exotic blue beauty into a glass and watch colors morph with the slightest change in pH. Blue tea is enchantingly unique, but is it safe to consume?
What Is Butterfly Pea Flower Tea?
Butterfly Pea Flower tea is a tisane (herbal tea) made from the blooms of Clitoria ternatea. When brewing the blossoms, a blue tea soup develops. This tea is used in alternative medicine to treat various ailments and conditions.
Clitoria ternatea is known as "Asian pigeonwings" among Asian cultures and "blue tea" by others. Its taxonomic name references part of the human female's intimate area because the flower is shaped similar to the body part.
What Is Butterfly Pea Flower Used For?
Clitoria ternatea (butterfly pea flower) is an herbaceous plant found in many parts of the world. Some countries now cultivate medicinal crops of butterfly pea flower to be used in Ayurvedic medicine as teas or supplements.
It's not uncommon to find crops being grown to be used as a natural food colorant, fabric dye, and color cosmetics. Whether butterfly pea flower is used medicinally or as a colorant, many people try iced tea made from the flowers to visually experience the changes of colors that this tea is so well known for.
How Does Butterfly Pea Flower Tea Change Color?
A glass of this tea begins as a vibrant, cobalt blue. Compounds called anthocyanins and pigment phenols are responsible for the hues of blue, purple, and pink that the tea is known for. The tea starts as blue because of delphinidin (an anthocyanin.)
Lemon juice is added in different doses to change the tea's color. Lemon juice lowers the pH of the tea, causing the difference in colors. A few drops of lemon juice turn the blue tea to purple. Add a bit more, and the purple turns to red or pink.
Raising the pH by adding saffron, the red/pink turns green! Changes in alkalinity are responsible for the magic to happen.
What Does Butterfly Pea Flower Tea Taste Like?
The mind plays a trick on the palette because first-time blue tea drinkers are expecting a fruity taste. However, that first sip is often met with surprise as layers of woody, grassy and earthy notes bathe the mouth with a vegetal finish. The taste of this blue tea is similar to many green teas.
To enhance blue tea, tea drinkers add infusions of fruit or spices; however, be aware that those infusions may affect the pH of the tea, causing unwanted color changes. There are many recipes out there floating around online that include blue tea as an ingredient. Finding one that actually marries well with the blue tea's flavor might be a whole new blog topic for us!
Butterfly Pea Flower Tea Benefits
Now we get down to business on finding out if there are any health benefits behind this blue tea beauty. Is this tea nothing more than unicorn colors in a glass, or is there more to it than meets the eye?
According to the International Journal of Natural and Social Sciences, the butterfly pea flower used within alternative medicine communities to promote memory function, treat chronic upper respiratory conditions, skin conditions, sore throat, leprosy, depression, convulsions, infertility, acts as a sedative and help with vision.
There is little research on the pharmacological benefits this tea provides for humans. Most studies indicate results from tests conducted on animals.
Medicinal benefits of the leaf given to animals included antibacterial, antidiabetic, helped with excessive sweating, and neurodegeneration. The flower provided anti-inflammatory and antidiabetic benefits and acted as a pain reliever. Roots of the plant were found to have antioxidant, diuretic, and laxative benefits.
Again, all of the benefits were discovered through animal testing, not through clinical studies (humans.) Medicinally, butterfly pea flower has not quite reached modern medicine. Until then, blue tea drinkers consume this tisane (herbal tea) at their own risk.
Is Butterfly Pea Flower Tea Safe?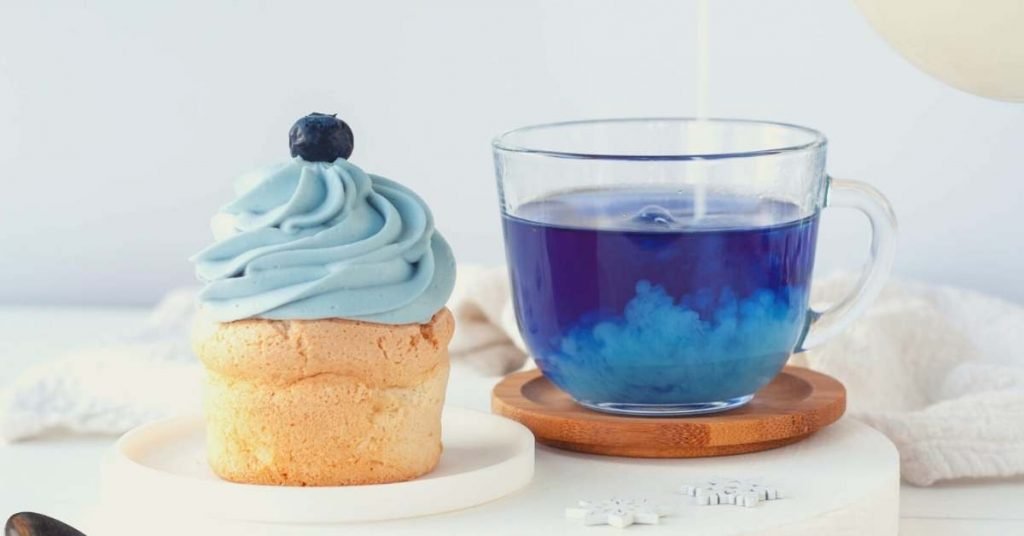 The FDA (U.S. Food and Drug Administration) approved butterfly pea flower extract to be used as food coloring for certain beverages (alcohol, sport/energy, water, soft drinks (fruity, ginger ale, and root beer,), juice (fruit and vegetable, chewing gum, tea, nut coating, dairy desserts, dairy drinks, yogurt, candy, and more.) However, as a standalone tea (tisane/herbal tea), the FDA has not approved it.
The information presented on this site is provided for information purposes only. It is not meant to substitute for medical advice or diagnosis provided by your physician or other medical professionals. Do not use this information to diagnose, treat, or cure any illness or health condition. If you have or suspect that you have a medical problem, contact your physician or healthcare provider.
Possible Side Effects Of Butterfly Pea Flower Tea
There are no evidence-based human side effects of butterfly pea flower tea. Use caution in trusting declared benefits. If there's no evidence-data backing the claims, odds are the assumptions are unreliable.
Overconsumption of any tea may cause unwanted side effects. Those taking medication who have medical conditions or allergies may experience side effects.
How To Make Butterfly Pea Flower Tea
Finding this tea may be challenging. When sourcing it, it's crucial that it comes from a highly reputable retailer, is organic, and contains nothing more than 100% Clitoria ternatea.
Things You'll Need
2 teaspoons of loose-leaf organic butterfly pea flower tea
2 cups of water
Slice of lemon
Pinch of saffron
Ice
Tea infuser
Teapot
Glass
Directions
(Blue-Colored Tea)
Heat the water to 185 degrees (F.)
Place the loose-leaf tea into the tea infuser.
Remove the water from the heat and pour it into a teapot.
Drop the tea infuser into the teapot and cover.
Allow the tea to steep for 5 minutes.
Remove the tea infuser.
Allow the tea to cool down to room temperature.
Pour the cool tea into a glass filled with ice.
(To Change The Color)
Squeeze a few drops of juice from the lemon into the tea. It should change to purple or red. Add more lemon juice until it reaches a fuschia/pink color.
To change it to green, add the saffron.
The Bottom Line
This is perhaps one of the most mesmerizing tisanes (herbal tea) there are. It's often the highlight of tea parties but not a big hit for the unsuspecting palette. Science project or tasty tisane (herbal tea) – you decide.
After all…"It's Never Not Teatime!"