Working too many hours in front of a computer, bad eating habits, and insufficient exercise might cause trouble falling asleep or staying asleep during the night.
Sleep deficiency can lead to constant tiredness, nausea, and anxiety, which cause further problems like stress disorders and autoimmune diseases, and other unwanted ailments.
Natural tonics such as lemon-ginger tea before bed can induce sleep in adult individuals seeking continuous night rest.
Creating healthy habits like drinking tea every day can significantly change the way you feel, look, and interact with the environment.
A healthy and rested body means a healthy mental being, increased productivity, and enhanced performance in every sphere of life.
Between 10% and 30% of adult Americans have problems falling asleep, so if you're among them, you might find the following text useful.
Benefits of Lemon-Ginger Tea Before Bedtime
Both lemon and ginger are great tummy soothing agents packed with properties that help slow intestinal flow move around and release stomach discomfort and gases.
The combination of these two also aids in faster digestion of food, which additionally helps people have quality sleep.
Ginger's most active compound is called gingerol and it is the one responsible for stopping nausea, especially in pregnant women. Ginger-lemon tea hasn't shown any side effects during pregnancy, so it's considered a safe soothing tonic at that stage of life.
Nausea caused by any other factor such as chemotherapy can also be alleviated with ginger-lemon tea before bedtime.
Alleviates Nasal Congestion
Lemon-ginger tea is an aromatic infusion, perfect for flu/cold and allergy seasons when people experience severe congestion.
Thanks to the intense smell of the vapor released from hot lemon-ginger tea, nasal congestion disappears in no time and allows people to breathe freely during the night.
Anti-Inflammatory Properties
Gingerol in ginger and the high levels of vitamin C in lemon are loaded with antioxidants that combat chronic inflammation in the body.
When the body undergoes chronic inflammation, it's more prone to developing diseases such as many types of cancer, Alzheimer's, and even various heart diseases.
Calming the inflammations means reducing the chances of getting some serious illness.
Many times water is not enough to hydrate our body and we need an extra boost to keep our metabolic functions at a high level with the aromatic cup of lemon-ginger infusion.
All our vital organs like the heart, kidneys, and gut need constant hydration to function properly, and by having a lemon-ginger tea at bedtime you are assuring an excellent source of liquid packed with vitamins, minerals, and fiber.
The information presented on this site is provided for information purposes only. It is not meant to substitute for medical advice or diagnosis provided by your physician or other medical professionals. Do not use this information to diagnose, treat, or cure any illness or health condition. If you have or suspect that you have a medical problem, contact your physician or healthcare provider.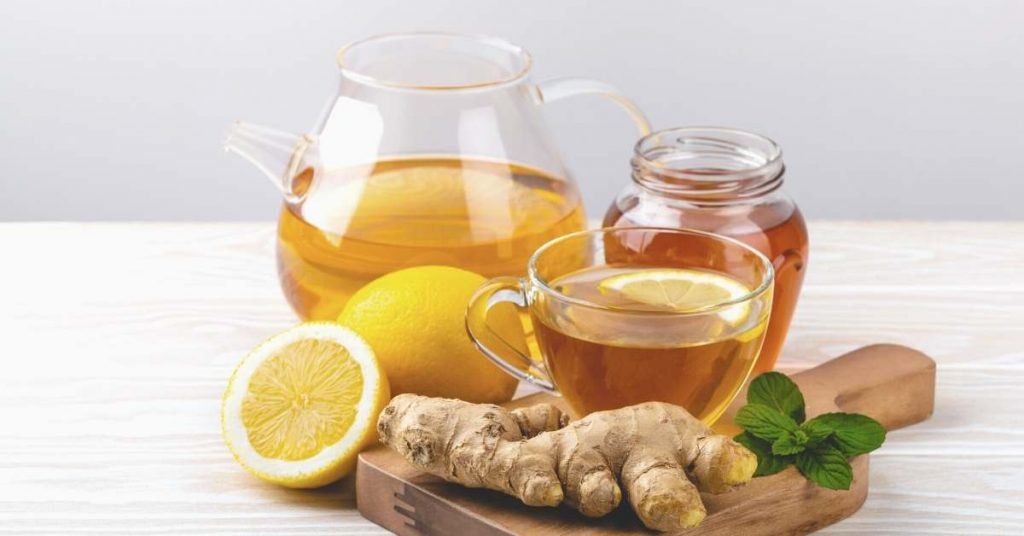 Lemon-Ginger Tea Recipe
Ingredients:
A slice of ginger (the size depends on how strong you like your tea but 1 inch is enough per cup)
1/2 lemon, quartered or sliced
Honey
Preparation:
Add lemon and ginger into a saucepan with a cup of water, simmer, and let it steep for 15 minutes.
Strain and sweeten with a tsp of honey.
Final Word
Whenever having a problem sleeping try remembering this excellent lemon-ginger elixir and enjoy a cup before bedtime.
It will calm you down, soothe your gut work, reduce inflammation, and even unclog your nasal passages so you can breathe freely even during the worst flu days.
Watch The Benefits of Lemon-Ginger Tea Before Bed Video
No content on this site, regardless of date, should ever be used as a substitute for direct medical advice from your doctor or other qualified clinicians.
MEDICAL DISCLAIMER
Itsnevernotteatime.com cannot and does not contain medical/health advice. The medical/health information is provided for general and educational purposes only and is not a substitute for professional advice.
Click Here For More Info