Sleep better, help your digestive and lymphatic systems, and ingest considerable doses of antioxidants.
1. Antioxidant Fruit Burst
With vitamin C to flush out toxins and a hefty dose of antioxidants from the red and black anthocyanins found in berries, this tasty tea boosts the immune system, reduces inflammation, and helps fight free radicals that can cause cell degeneration.
Serves 1 cup
1¼ cups filtered water
2 teaspoons dried elderberries
1 teaspoon myrtles
1 teaspoon dried hibiscus flowers
1 teaspoon dried hawthorn berries
½ teaspoon finely grated orange zest
Lemon squeeze, to taste
Honey to taste
Preparation
Pour the filtered water into a small saucepan and heat just below the boiling point.
Add the dried berries, flowers, and orange zest, then reduce the heat to the lowest possible setting and cover the pot with a tight-fitting lid. Simmer for 5 minutes until the berries are soft and begin to burst.
Place the mixture in a cup and use the back of a spoon to extract as much liquid as possible from the berries. Add a few drops of lemon to taste for a fresh citrus twist and you'll be adding a good dose of vitamin C.
Sweeten with a little honey.
Tip
Freeze this tea in ice cube trays and use the ice to flavor water or other cold beverages. Or serve it cold, over ice, with a sprig of fresh mint.
2. Morning Purification Tea
Start the day with this sweet tea to give your digestive and lymphatic systems that initial boost, and to help eliminate waste from the body. It's perfect for when you're feeling discouraged and lethargic, and it's quick and easy to make!
Makes 1 large cup
1 parsley sprig
½ teaspoon dried dandelion fresh leaves or 3-4 fresh greens
2 lemon slices
A ½ inch piece of fresh ginger, peeled and coarsely chopped
Preparation
Lightly crush the fresh leaves and place them in a large cup along with the rest of the ingredients.
In an electric pitcher or medium saucepan, heat filtered water to just below boiling point, then fill the cup with hot water.
Tip
Fresh herbs look lovely in tea and can be very easy to grow. Dandelion, for example, grows everywhere and, despite its important medicinal qualities, is considered a wild plant. Why not pluck a few leaves the next time you pass a dandelion plant to make this refreshing tea?
3. Aromatic Seed Tea
The aromatic seeds of fennel, fenugreek, celery, and anise help balance blood sugar and provide a head-to-toe cleanse. Heating ginger and cinnamon promotes the action of their anti-inflammatory and antibacterial qualities. Recent research suggests that cinnamon may lower blood sugar levels and help prevent type 2 diabetes.
Makes 1 large cup
1½ teaspoons fennel seeds
½ teaspoon celery seeds
¼ teaspoon fenugreek seeds
1 teaspoon minced dried ginger or a ½-inch piece of fresh ginger, peeled and minced
½ teaspoon anise
¼ teaspoon cinnamon powder or fine dry pieces
Lemon slices for garnish
Preparation
Place all the ingredients, except the lemon slices, in a hot kettle. In an electric pitcher or medium saucepan, heat filtered water just below boiling point, pour one cup of water over the herbs, and cover the teapot. Let it steep. The seeds take a little longer than the dried leaves to infuse, so it's a good idea to let them steep for 10-15 minutes.
Strain into a large mug and top with lemon slices.
Did you know: Fennel is a versatile spice with excellent antioxidant properties and lots of vitamins and minerals. It is particularly useful for supporting the digestive system and relieving bloating.
Tip: Carry a sachet of fennel seeds with you and chew a few after eating to improve digestion and freshen your breath.
4. Nourishing Rooibos Chai Tea
Hot, comforting, and deliciously spicy Indian chai tea has become popular in the West. In this chai tea recipe, rooibos (also known as "redbush") replaces traditional black tea to create a delicious decaffeinated beverage packed with antioxidants and aromatic compounds. It helps improve digestion so you can get maximum nutrition from food.
Yields 2 large cups
2 teaspoons of dried rooibos
1 cinnamon stick, broken
3 black peppercorns
4 dried cloves
1 teaspoon dried minced ginger or ¾-inch piece of fresh ginger, peeled and grated
1 teaspoon coriander seeds
3 cardamom pods, lightly crushed
Grated nutmeg
2¾ generous cups of filtered water
Warm cow's milk or nut milk, to taste
Honey to taste (optional)
Preparation
Place all the seeds and dry herbs in a pot with water. Bring just below boiling point, then lower the heat so that the water is barely bubbling.
Cover with a lid and let it continue to bubble slowly for 10 minutes. Turn off the heat and let the tea steep for another 5 minutes, then divide it into 2 cups.
Drizzle a splash of warm cow's milk or nut milk, such as almond milk, and a little honey. Allow the spices to permeate the tea, or for a more traditional (and deliciously comforting) brew, add a little less than a cup of warm milk and a teaspoon of honey.
5. Warm Tea for Digestion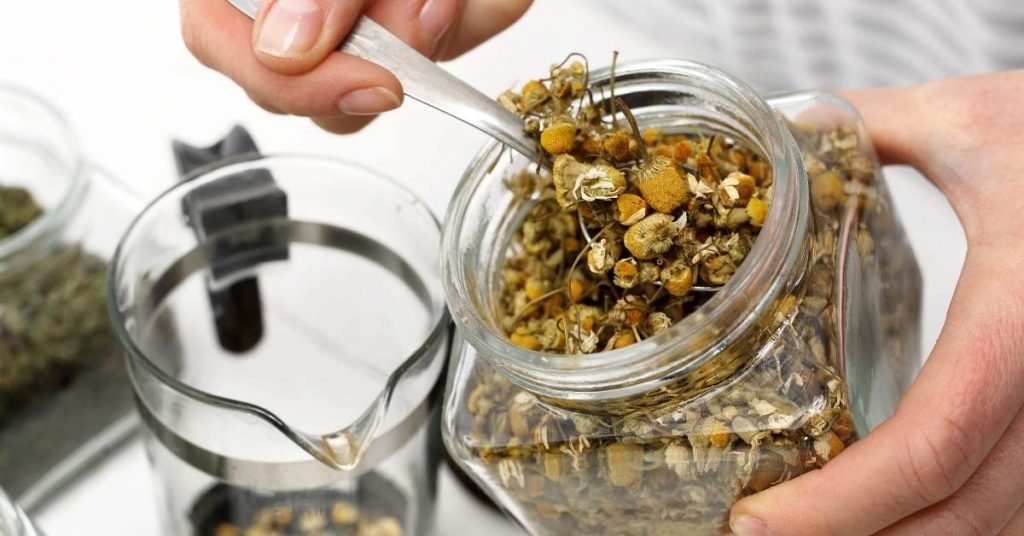 Traditional systems of medicine around the world tend to attribute poor digestion to extremely low temperatures of the digestive tract. This warming blend of herbs and spices will help restore function and improve your body's ability to absorb nutrients from the food you eat.
Makes 2 cups
1 teaspoon fennel seeds
1 teaspoon dried and chopped angelica root
1 teaspoon dried chamomile flowers
2 cardamom pods
½ teaspoon dill seeds
¼ teaspoon caraway seeds
A ½ inch piece of fresh ginger, peeled and thinly sliced
1 cinnamon stick, broken in half
1-star anise
Preparation
Place all the herbs, except the star anise, in a large teapot. In an electric pitcher or medium saucepan bring filtered water to a boil just below boiling point, then pour 2 cups of the water into the teapot and cover.
Let it steep for 15 minutes and strain it.
Let it cool a little and serve it in two warm cups and drop the star anise so that it floats on the surface as decoration.
Did you know: star anise gives foods and drinks a pleasant anise flavor, it has also been used for centuries in herbal medicine to treat and prevent viruses and act as an antifungal drug, among other things.
6. Relaxing Lemon Tea
Fresh and delicious-tasting tea with a hint of citrus to soothe the senses and can be served perfectly warm or chilled over ice. Each of the aromatic herbs in this recipe has calming qualities. Linden flowers, in particular, have been highlighted in several studies as anxiety-reducing and relaxation-promoting.
Makes 2 cups
1 teaspoon dried lemon verbena
1 teaspoon dried linden blossoms
1 teaspoon dried lemon balm
1 teaspoon dried skullcap leaves
½ teaspoon dried lemongrass
Juice of half a lemon
One fresh lemon balm leaf per serving, for garnish
Preparation
Place the herbs in a hot kettle. In an electric pitcher or medium saucepan, bring freshly filtered water to just below the boiling point. Put a cup of water in the kettle and cover it.
Let it steep for 10 minutes, then add the lemon juice and strain. Serve each cup garnished with a lemon balm leaf.
7. Intestinal Soothing
The tea does not have to be hot! The mucilage (a sticky substance produced by many plants) found in the herbs in this recipe can be extracted in the water without the need to apply heat, making it possible to prepare a cold infusion. This infusion is an unbeatable natural medicine for inflammation of the intestines, food allergies, or irritable bowel syndrome. Large licorice amounts can increase blood pressure, so consult your doctor before drinking this tea if you suffer from hypertension.
Makes 3 small glasses
1 teaspoon of dried and chopped marshmallow root
1 teaspoon dried plantain leaf
1 teaspoon powdered licorice root
1 teaspoon slippery elm powder
2 large cups of filtered water
Preparation
Using a mortar or spice grinder, crush the plantain leaf, marshmallow root, and licorice powder. Introduce the mixture with the powdered slippery elm in a jar with a lid and add the measured water. Shake well and let stand overnight in a cool place.
The next morning, strain the mixture into a pitcher with a fine strainer lined with cotton gauze. Once the liquid has strained through the cotton gauze, wring out the gauze to extract as much water from the herbs as possible.
Store in a glass jar in the refrigerator for up to 36 hours. Drink a glass before meals.
No content on this site, regardless of date, should ever be used as a substitute for direct medical advice from your doctor or other qualified clinicians.